An embroidery digitizing software lets you make your designs, turn patterns into outline stitches, and embroider text labels, among other things. There are many free embroidery digitizing programmes that have essential features like start and stop, colour change, and so on. The newer sewing machines can read different types of files. Photo embroidery digitizing software lets you turn any picture into a stitch file.
Embird – Hoops in a variety of styles and sizes.

My Editor – Enables 3D previewing of embroidery designs.

Ink/Stitch – Automated Inkscape palette installation.

SophieSew – A unified tool for thread management.

Hatch – Exports to 22 different file formats.

Bernina Artlink – Numerous hoop styles.
When you make embroidery, you can use software to scan it and put it on fabric. This is similar to photo scanning software and apps that let you do the same thing.
People who aren't ready to spend money on a premium package or want to try out different software can use free versions instead. As a rule, they have a limited number of functions that are primarily good for people who start.
1-Embird – Our Choice.
A wide range of hoops and sizes.
It's easy to download and set up.
Intuitive
It's possible to store things on Amazon and Azure's servers in the cloud
A lot of thread catalogues
3D previews that look like photos
Embird is an embroidery digitizing software that is made up of parts. It would be best to buy the module itself to use a specific mode or option.
Separate modules let you use tools like Digitizing, Sfumato Stitch, Cross Stitching, Font Engine, and Alphabets that have already been digitized.
For free, you can use Embird in the demo mode. Even though it has some limitations, it can still digitize simple art. It's free for two months before you have to buy the full version if you want to keep using it.
2-My Editor.
Allows you to look at embroidery designs in 3D.
Several macros and templates
Files can be exported into PNG, JPEG, BMP, and TIFF files.
Allows you to look at embroidery designs in 3D.
Impossible to come up with new designs.
My Editor, which is free embroidery software, is easy to use because it has a friendly interface. You can use the programme to look at and change files and save them in different formats or you can avail digitizing serivces.
You can save and view files in my Editor, which also has better tools for managing and doing finished works. This free embroidery digitizing software lets you use it to work with NGS files. You can look at and save them differently for multiple types of embroidery machines.
The programme comes with extra features that let you see how your designs will look on different fabrics, change their size, and rotate them.
3-Ink/Stitch.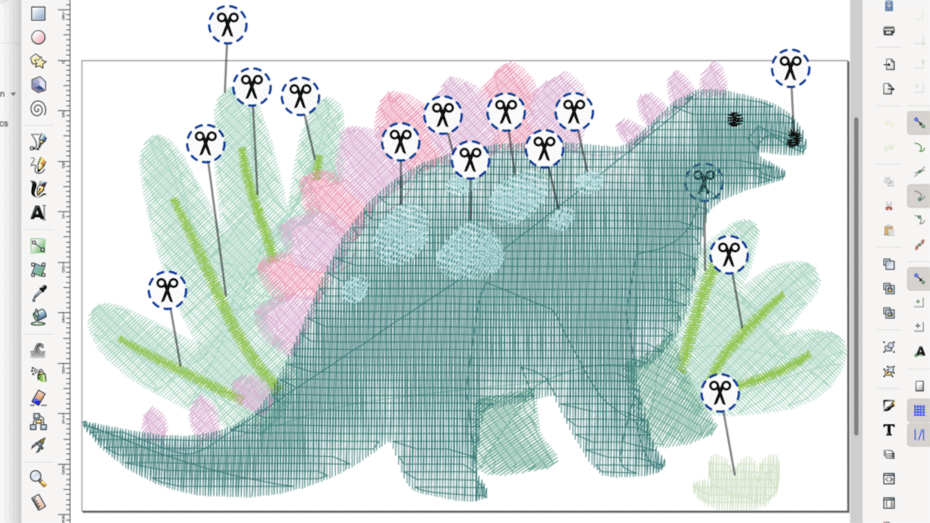 Automated installation of the Inkscape colour palettes.
Cross-platform
This feature is very easy to use.
Stitch-out preview with animation
Doesn't work with Linux.
Ink/Stitch is an extension of a well-known vector graphics tool. An open-source drawing tool is used to make embroidery files with this free digitizing tool. You can also make stitch files from different SVG designs.
Can turn SVG files into stitched-in parts and SVG lines and zigzags into zigzags and lines? Ink/Stitch also has a tool that lets you make rows of satin from paths with two subpath lines. If you want, you can change the SVG path objects for each one of the four types of stitch.
This software lets you import most types of embroidery files, use them again, and change them with the help of the path tool in Inkscape. Managing thread colours and projects is easy with InkStitch's tools.
4-SophieSew
An all-in-one tool for managing threads.
Versions of everything.
Intuitive.
I like that it comes with a good set of essential tools, too.
In this case, it's only for small home businesses.
A few bugs.
SophieSew free embroidery digitizing software is object-oriented, so it's a good choice for making things. A person starts with simple things like images and lines, then adds them together to make more complicated and extensive designs (running stitches, fill areas). As the user goes through each step, they get ready to work.
Sophie's has a lot of different tools, like making copies, deleting them, rotating them, resizing them, and more. You can use them to create individual parts, the whole design, or several designs look better.
5-Hatch
Exports to 22 different file types
It doesn't need to be approved by CC within 30 days.
The choices are many.
Useful guides.
An excellent option for beginners.
Trial: The price is very high.
A little hard to use.
Hatch Embroidery is suitable for newbies and amateurs because it is easy to use and set up. You first use a 30-day free trial option to see how it works and how well it works After that, if you are satisfied with the software, you can upgrade your plan. For both simple and complex designs, Hatch Embroidery has a lot of options and tools that can be used.
Users of all skill classes can use the programme, including manual and automatic digitizing, editing with different layout options, adding, resizing and changing colours, adding multiple hoops, and more. The programme also includes world-class lettering and many other features.
6-Bernina Artlink
You can choose from different hoops.
Easy to choose hoop.
Slow re-draws show.
It's easy to change thread colours.
A printable preview of embroidery.
No picture digitization.
There's no way to enter text.
I think this free online embroidery digitizer is suitable for beginners. Users can quickly change the size of designs and make other changes thanks to the new version of Bernina Artlink.
You can change your design and send it from your computer to a Bernina embroidery machine with the software. You can do this with the software. After the update, the programme can run on Windows 8.1. Besides, its interface has gotten a lot better.
Embroidery machines from other brands can use it, too, so it's a good choice. In Artistic View, you can change designs, preview colour combinations, and print an embroidering preview in its original size. Use this to see if you are using the right colours, and you will be able to tell right away.